London-born Sophie de Rakoff made her mark in New York over 20 years ago, writing for various publications, including Vibe and Vogue. A few years later she headed West, making Los Angeles her home. Sophie found success writing for Paper and working as a fashion stylist in the music industry. Costume design quickly became her new passion and by 2001 she had solidified herself as of one of the industry's key players after designing Elle Woods' wardrobe in the film Legally Blonde. The iconic Jackie O. inspired pink suit, worn by Reese Witherspoon, is currently featured in the Hollywood Costume Exhibit at London's Victoria and Albert Museum. Sophie has been nominated twice by the Costume Designer's Guild for Excellence in Contemporary Film and was honored by Premiere Magazine and AMC as one of 2005's "Women in Hollywood" recipients. The creative powerhouse keeps growing her garden of ingenuity. Tomorrow she debuts an exclusively curated Tastemaker Tag Sale for One Kings Lane. It was an honor to interview Ms. de Rakoff. Enjoy!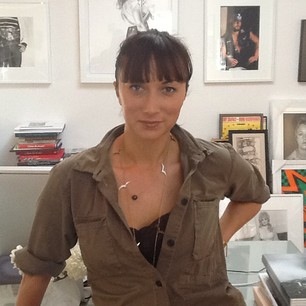 Your career is interesting and inspiring to me. How did you get your first gig as a costume designer?
I had moved to LA from NY and was working as a stylist's assistant, and not really taking it that seriously. My brother was dating a young  actress at the time  (well, we were all young at the time!) who was just about to start on a tiny independant film and she literally asked me to come in and meet on the film because she liked my personal sense of style  and thought I would make her look good. So I did and I did!
How did you come to collaborate on films with Reese Witherspoon? Was it by chance?
Reese and I met on Legally Blonde. It was an easy and comfortable and creative relationship right from the start. We became friends quickly and visually created an iconic character on that movie. The subsequent movies we have done together have come about because the film makers know that we have a productive relationship, and when the stars are in alignment, it ends up that we can work together again. I wouldn't say it was a coincidence, but it has never, ever been a mandate from either of us.
Your design for the outfit Elle Woods wears in Legally Blonde 2: Red, White & Blonde is currently part of the Hollywood Costume Exhibit at the Victoria and Albert Museum in London. How was it seeing your work as part of such an exciting exhibition for the field of costume design?
It was a moment of utter joy. I grew up in London and the V&A has always been one of my favorite places in the world. To have a costume included in an exhibition is an honor that tops every other piece of professional good fortune I have had. And the fact that the exhibit itself is so brilliantly presented and curated makes it even more significant for me.
Describe the process of creating Elle's Jackie O. look.
Legally Blonde 2: Red, White & Blonde, was for me, visually, a chance to explore some specific American archetypes; one of whom was Jackie O. The pink 60's suit was  inevitable on many levels. I studied images of Jackie O., and came up with my version of what I felt represented her style during the White House years. But it also needed to work for Elle Woods in the context of the movie and for Reese herself as a person.
Which iconic fashion designs and designers have inspired you?
In terms of fashion designers, Ossie Clarke's designs, particularly when combined with Celia Birtwell's prints, have always been a repeat offender in my life. I have a floating daisy print chiffon blouse framed in plexi on the wall of my office and it makes me happy every day. But it is Anne Roth's work as a costume designer, that I came across as a child, that seriously shaped my aesthetic. Klute and Midnight Cowboy are two seminal pieces of costume design for me. I was allowed to watch very inappropriate movies as a child, and I clearly remember being enthralled, fascinated and inspired by the appearance of the actors.
Any from the exhibition at the V&A?
When I saw the Audrey Hepburn/Eliza Doolittle costume my eyes welled up. For some reason the fact that the mannequin had the gloves on and was holding a little bunch of violets literally made me cry. In terms of physical beauty and detail, the My Man Godfrey beaded gown and duster jacket is so crazy beautiful that I just stood and stared. It made me want to drown myself  in bugle beads and georgette.
When designing the look of a character in a film, how do you begin? Do you have a process you stick to each time?
Costume designers, as a rule, begin with the script. It's that simple.  The character is on the page and then it's up to you as a  designer to bring them to life in your world. I read, I absorb, then I obsessively hunt for images that can explain what I see in my minds eye. I don't sketch, so I use photographic imagery as my jumping off point.
Funniest and most cherished moment as a costume designer?
Having Shirley MacLaine pat me on the head and tell me what a good costume designer I was on In Her Shoes. You really can't get better than that.  My assistant kicked me so hard under the table that we both nearly fell over.
If you could design for anyone, who would it be for and why?
If I were King for a day, I would make Cindy Sherman let me help her create a character. She has always been my favorite photographer and across the course of her career she has embodied everything I care about in art.
You recently curated a Tastemaker Tag Sale event for One Kings Lane.  What type of items can we expect to see in the sale and can you share some of your sources? What is your favorite piece?
Photo books, accessories and art. These are things that have been revolving sources of inspiration for me for as long as I can remember. My favorite pieces are a trio of late 1960's French modernist portraits that I found in LA at the Long Beach flea market, two hand-stitched leather dolls of Arabian tribesmen on camels (weird but true) that I found in Brick Lane in London, and an Edwardian beaver skin top hat in its leather case that I got from Ebay. Curating the OKL sale was immensely satisfying, I was able to look at old my old treasures and relive when I found them.
What are your favorite places to shop?
I have always been a diligent vintage shopper. I worked in a vintage store when I was a teenager, and when I came to the States I immediately got addicted to Sunday flea markets. Flea markets and antique stores have always been my favorite places to shop for everything: clothes, books, furniture…you name it.
What will never go out of style?
A classic black stiletto.
What accessory should every woman own?
A good pair of sunglasses.
What quality about yourself would you never want to lose?
To remember that making movies is just a job and life is short so behave as well as you can.
Images c/o Sophie de Rakoff
Note: this interview has been edited and condensed.