The Spotlight section of this blog is my personal favorite because it reveals the details and decisions of fascinating folks; the why and how they land on a yellow brick road of life. JBD is back with a bang, sitting down for a one-on-one with Suzanne McCormack, Coordinating Producer of television's "The Big Bang Theory" and "Two and a Half Men." This hip chick has sage advice. Read on to learn how Suzanne carved out her own niche and why taking a risk is well worth everything.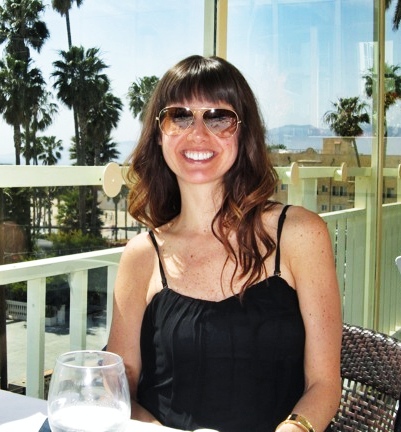 What was your first job out of college?
After college, I went to NYU to get my Master's Degree in School Counseling. Although I found it fascinating, I realized upon graduation that I did not want to pursue it as a career. I knew working in TV was my dream job, but I didn't really know how to get there. After about two months of asking myself what I wanted to do with my life, I went in for an interview with the CBS Page Program in New York City and was hired shortly after. My main responsibility was to greet guests of "The Early Show" (now "CBS This Morning"). I was at the bottom of the totem pole, had to be in at 5:30am and loved it! The position allowed me to meet some really cool actors and musicians, many of whom I quietly geeked out over. I could not believe this was my job!
You made the move from the Big Apple to the City of Angels.
While working at "The Early Show," I realized my passion was for the entertainment side of television (vs. broadcast journalism). Knowing that the entertainment industry fuels Los Angeles, I hopped on a plane and moved to L.A., not knowing anyone when I landed. It was exciting and terrifying!
Tell us about your current gig, working alongside Chuck Lorre. 
This is my fifth season working for Chuck Lorre and I couldn't be happier. I started as his assistant and then moved up to Coordinating Producer of "Two and a Half Men" and "The Big Bang Theory."  In August 2008, I went to my very first table read of "Two and a Half Men" and had to pinch myself. This is where the actors read the script out loud for the first time and the writers make notes as to what works and what doesn't. Necessary changes are made to the script and the cast will then perform the new draft at rehearsal the following day. I still get chills when I see the small tweaks and changes that make the episode that much funnier as we head into our tape night. We really do shoot the shows in front of a live studio audience. As for my current gig, a few months ago Chuck announced that he is expanding into a full production company so I'm finding my role as we go, all while staying on top of what's going on with Chuck's current shows. My position allows for a diverse day ranging from casting to coordinating production schedules to publicity and so on. There's a lot of running around from the different stages and my office, which I've only recently learned how to do in heels.
Have you been to any of the award shows? Favorite memory? 
I've been very fortunate to attend The Emmys for the past two years and it's been fun! Some of my closest friends work on "The Big Bang Theory," so we get to go together. Experiencing it with them is the best part.
What advice can you give others looking to break into television production? 
Be willing to take any job offered, do any task assigned to you and work any hour of the day. Even if it's not your first choice for a job, you will build contacts that could possibly parlay into the job you really want.
What advice would you give your 25 year old self? 
Get bangs.
What Los Angeles neighborhood do you call home? Any favorite go-to boutiques or cafes? 
West Hollywood! But New York will always hold a big piece of my heart. I am very fortunate that my parents and friends live within walking distance to my place. Yes, my parents moved out to L.A. two years after I did and yes, I am an only child. The New Yorker in me appreciates the great restaurants and bars I can get to on foot. Right now I'm loving Pace for dinner. The food is delicious!
Three things to do in LA? 
Gimlets at The Ivy in Santa Monica at sunset.
Soul Cycle. I don't care what city you are in, if there is a Soul Cycle studio, take a class.
Drive up the Pacific Coast Highway and enjoy the view.
Best moment of living in Los Angeles?  
The day Chuck Lorre hired me to work for him.  It has changed my life for the better and I have grown so much, both personally and professionally.  I've also met some of my closest friends from working on the shows. They are amazing.
What inspires you?
First, my parents. They have an amazing work ethic, which I'd like to think I inherited. They are wonderful and I am so grateful for them. I would also be remiss if I didn't mention how inspiring it is to work with someone as brilliant as Chuck Lorre. I feel incredibly fortunate to learn from him every day.
Three favorite brands or stores for daily wear?  
Ooh, this is tough! Rachel Zoe makes a flare leg pant like no other.  I'm obsessed. Joie has the best flowy shirts for a romantic look. Theory is giving me brilliant work options like blazers, dresses and camis.
What will never go out of style?
Class!
Image Credits: 1. Courtesy of Suzanne McCormack 2. IMDB 3. CBS 4. Courtesy of Suzanne McCormack
Note: This interview has been condensed and edited.